EMT Refresher Course Online
Our EMT Refresher course is approved by CAPCE (F5) and the NREMT. Take your EMT recent training entirely online with our EMS instructors LIVE. This 40 hour NREMT Refresher class covers everything you need to recertify with the NREMT. Your information is easily transferred to the NREMT so you can get back to work right away. Don't mess around with non-CAPCE certified organizations for your recertification. Read the fine print. We got you covered! Take your EMT Refresher course from an organization owned and operated by those with experience in the prehospital emergency services field.
It was easy to find classes that worked with my schedule, I appreciated the class timing that allowed me to prepare for the testing while not taking up unreasonable amounts of my free time. The instructors all were professional and interesting.
I found the school and the instructorsecond and the assistant instructors to be very professional and I liked the school they were very accurate and didn't waste time with a lot of trivial things. Also everyone was very geared towards teaching what happens in real life and also there was a lot of talk about also what the NREMT will be like and also a good talk about what to study for that as well! All in all I found it to be a very valuable course and school, I recommend it for everyone, no matter if your just a first time learner or you need to recert!
I have been to their refresher course twice now! Both times the instructors expressed they were knowledgeable in their field, demonstrated an understanding of the subject matter, and conveyed that to the students effectively.
Questions?
Call or Text
(800) 728-0209
40 Hour Online NREMT Refresher - Virtual Instructor Led Training (F5) NCCP Compliant
Online NREMT F5 Virtual Instructor Led Training (VILT) = Counts Same as In-Person Hours

NCCP Compliant NREMT Refresher

40 Total Hour NREMT NCCP Course – 16 Hours VILT & 24 Hours Distributive Education.
Accredited by CAPCE, formerly CECBEMS
Meets Requirements for In-Person/VILT Hours Required by the NREMT for National/State/Local Sections
Take the Class Online with a Live Instructor – Access Archive Anytime/Anywhere
Print Certification Instantly Upon Successful Course Completion
Streamlined NREMT Recertification Process (Due to CAPCE Accreditation)

Cost: $247.50

 
Course Description:
This 40 Hour, NREMT Refresher class is completed through the use of Virtual Instructor Led Training (VILT) and meets National Registry of Emergency Medical Technicians (NREMT) guidelines to recertify as an EMT. This course is approved by the Commission on Accreditation for Pre-Hospital Continuing Education (CAPCE), formerly CECBEMS approved course and designated as (F5 Refresher Training). This course follows the U.S. Department of Transportation (DOT) National Standard Curriculum for Emergency Medical Technician Basic Refresher (2009). Students are trained according to the standards outlined above. Students who successfully pass the course, will be issued certification identifying the number of hours obtained for training for the use of re-registration as an EMT.
This EMT Refresher is Informative and Convenient
Our Online EMT Refresher Course is CAPCE (F5) Approved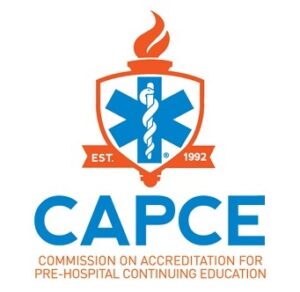 CAPCE is an organization established to develop and implement policies to standardize the review and approval of EMS continuing education activities. The cosponsoring organizations of CAPCE are the National Association of Emergency Medical Technicians, the American College of Emergency Physicians, the National Association of Emergency Medical Services Physicians, the National Association of State Emergency Medical Services Directors, the National Council of State Emergency Medical Services Training Coordinators, and the National Registry of Emergency Medical Technicians, the American College of Osteopathic Emergency Physicians, and the National Association of EMS Educators.
VILT-CE cannot be used for verification of skills competency. Skills competency demonstration, practice and verification must be instructor-led in a face-to-face environment. 
* THIS CLASS MEETS NREMT REQUIREMENTS AS A "TRADITIONAL REFRESHER" AND IS AN F5 APPROVED CAPCE COURSE. YOU CAN ALSO SIGN UP FOR ADDITIONAL CEUs BELOW TO COMPLETE THE HOURS NEEDED TO RECERTIFY WITH THE NREMT

Questions?
Call or Text
(800) 728-0209
Class was great, awesome instructor, made sure we knew everything we needed to and more!!! would recommend to any of my friends who would like to take the class!
My refresher course through EMS University was great. Just what I needed in this season of my life. The instructor was knowledgeable, it was easy to sign up, and gave the ability to work at your own pace. I wouldn't hesitate to do a refresher course with EMS University again.
Great experience here! Instructors are very knowledgeable and make for a good learning environment. Highly recommend it.